In recent years, the tea industry has undergone incredible changes in order to adapt to a relatively new demand taking the world by storm. As the likes of builder's tea and other similar blends gradually lose popularity within the market, fruit tea and tisanes have been consistently on the rise as consumers and suppliers alike begin to uncover their true potential.
While sales of ordinary black tea bags have dropped by approximately 5% in less than half a decade, demand for herbal and fruit tea infusions has rocketed by almost 8% in one year alone.
Despite this, traditional tea sales are still at approximately £415 million annually, compared to about £230 million for all other types of tea, but times are changing, and as tea reaches out to younger generations with each passing year, it is no surprise that much of the industry is preparing itself for a potentially major shift.
The Popularity of Fruit Tea and Tisanes
So, what is the reasoning for this new Fruit Tisanes craze? Well, much of it can be based on the fact that thorough scientific studies have established that tisanes and fruit teas are good for you and are a healthy alternative to many of the sugary drinks currently on the market.
Society has become increasingly health conscious so exploring the world of fruit loose teas is a great starting point for consumers, with many blends offering benefits such as a higher vitamin intake, weight loss capabilities, and even insulin control, depending on what fruit content you choose in your tea. But to understand its popularity, we must first explore its relatively short history within the tea industry.
Compared with the likes of Green Tea and Black Tea, Tisanes are just getting started as a popular worldwide beverage! There is no definitive answer as to where and when Fruit teas originated, but much of its history can likely be associated with the rise of herbal infusions such as Chamomile and Peppermint.
Why are they Called Tisanes
The term 'Tisane' itself, is likewise steeped in mystery, with many claims to its origin. One such theory suggests the name comes from the Greek word 'ptisanē', which refers to a drink made from the crushed grains of pearl barley. Meanwhile, another theory suggests that the French originally invented the term, with the word 'Ti' (Tea) and 'Sans' (French for "without") combined potentially meaning "tea without tea."
However, over the course of history – and even today – 'tisanes' are still often known as 'teas', despite not technically being a tea, at all! In fact, leading up to the American Revolutionary War, as the British Crown continued to impose taxation on tea imported to the colonies – the citizens of the soon-to-be United States of America found themselves inventing substitutes with locally sourced ingredients to make their beverages. These were known as "freedom teas" or "herbal teas", and it is largely considered that during this period, the idea of 'tea' and 'tisane' became so conflated that each subsequent generation lost the ability to tell the difference!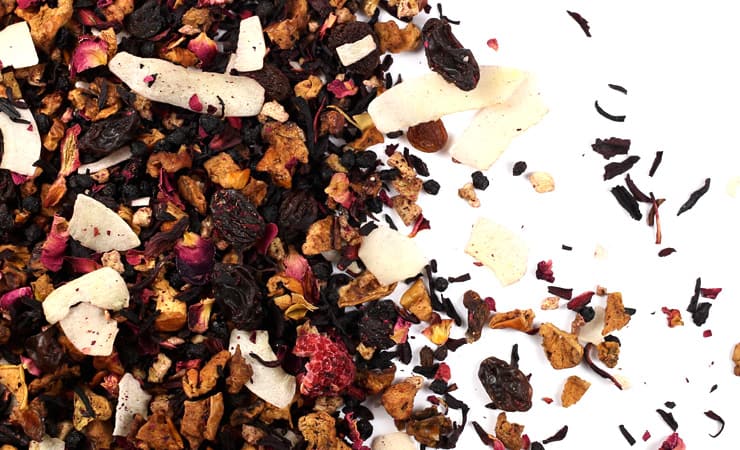 Fruit Tisane Flavours and Ingredients
Since the 21st Century, fruit tea manufacturers have become especially creative in light of these new recipes that are created every year to suit an ever-changing market. When they were first created, tisanes had mostly consisted of fruits like Raspberries, Oranges and Blueberries.
Today however, fruit teas can be found with flavours such as Cherry, Apple, Blackcurrant and Peach, with many other blends combining these flavours with popular herbs and spices for some extra kick! These ingredients are partly the reason that health lovers are flocking to these delightful beverages as we learn more and more on how tisanes can benefit our everyday life.
One of the most popular ingredients used today is, in fact, Hibiscus, which often gives tisanes their deep red colour and tart sweetness, as well as being a great source of the all-important Vitamin C within your diet.
Health Benefits of Drinking Fruit and Tisane Teas
Meanwhile, Orange is another popular ingredient of many tisanes which contains high levels of calcium which can help protect and maintain bone health. Oranges also contain Magnesium, which helps maintain blood pressure, while the Potassium found in this fruit can likewise help improve Cardiovascular health!
Exploring the likes of Strawberries and Lemon Peel, on the other hand, we find that these ingredients can offer a wealth of antioxidants. With so many different blends to choose from, the possibilities are almost endless!
Selection of our Fruit Tisanes
Here at the The Kent and Sussex Tea and Coffee Company, we pride ourselves in only offering the very best when it comes to Fruit Tisanes.
If your looking for a nice warm brew to get you through the cold weather? Why not try our Winter Romance Fruit Tisane, with its deep flavours of baked Apples, Cinnamon and Almonds, this beverage is a welcome pleasure while sitting around a real fire after a brisk walk outside.
Prefer something a little cooler? Perhaps our Cherry Compote Fruit Tea is the one for you. Perfect for a hot Summer's day, this strong and full-bodied fruit tisane is packed with delicious flavours and aromas of ripe Cherries, Fresh Raspberries and delectable Banana pieces. This creates a wonderful concoction ready for the tanning season!
Whatever your tastes might be, we bound to have something for everyone!