Lavender Tea is nostalgia in a cup. Many of us have fond childhood memories of parents putting Lavender bags under our pillows while we drift off to sleep. Others might recall times wandering through gardens thick with the scent of this mesmerising herb. Now, according to scientific research, we can embrace Lavender Tea benefits.
Studies suggest that this wholesome, nutritious infusion can help with inflammatory complaints, gastrointestinal disorders and, of course, sleep. In this article, we will look at some of its finer qualities and why you should buy this Herbal Tea today.
What is Lavender Tea?
Lavender Tea comes from the Lavandula angustifolia plant belonging to the mint family, Lamiaceae. This flowering plant originates from the Mediterranean, although it has since spread around the world. It can grow to be around 3 feet high, with numerous slender, straight branches. Atop these branches are distinct purple flowers that exude a potent, irresistible aroma.
A variety of household and commercial products use Lavender. This includes soaps, shampoos, potpourri, cloth sachets, essential oils and, of course, Herbal Tea. The Ancient Egyptians first used it as an incense. When it came to Lavender Tea Benefits, the Greek naturalist Dioscorides was one of the first to recognise its potential.
Dioscorides noted that, when consumed, it could relieve indigestion, headaches and sore throats. When applied topically, it could clean wounds, treat burns and overall improve skin health. He later published his findings in his 5-volume publication entitled De Materia Medica.
The Roman naturalist Pliny the Elder had ideas of his own. He extensively researched this herb and found that it could treat upset stomachs, kidney disorders, jaundice, dropsy and even insect bites. Centuries later, Queen Elizabeth I the first used it while suffering from migraines. Indeed, some of these Lavender Tea benefits still apply today.
Lavender Tea Benefits
When brewed once, Lavender Tea has a refreshingly herbaceous flavour with distinct floral notes. When brewed again and again and again, it has the bonus of Lavender Tea benefits. It contains several vitamins and minerals, most notably Vitamins A and C, Calcium and Iron. It also contains antioxidants that combat free radicals in the body.
Most people associate Lavender Tea benefits with sleep. However, this isn't all that it can do. Studies suggest that this much-loved infusion can also relieve stress and mild anxiety while improving skin health. Additionally, it has anti-inflammatory, antifungal and antiseptic properties that support wellbeing inside and out.
Lavender Tea and Sleep
Sleep well with Lavender Tea benefits. Researchers at the UK University of Southampton can explain why this works. They conducted a study that saw ten adult participants split into two groups. The first group slept in a room with a diffuser exuding lavender essential oil. The second group slept in a room with a placebo almond oil diffuser.
Later during the study, both groups switched rooms to compare. The results indicated that the lavender-scented room improved the quality of sleep of most participants. This is because Lavender loose tea can stimulate the release of certain neurotransmitters. These neurotransmitters, in turn, offset excess stress hormones in the body, we also have other teas to help you sleep which are available on our website.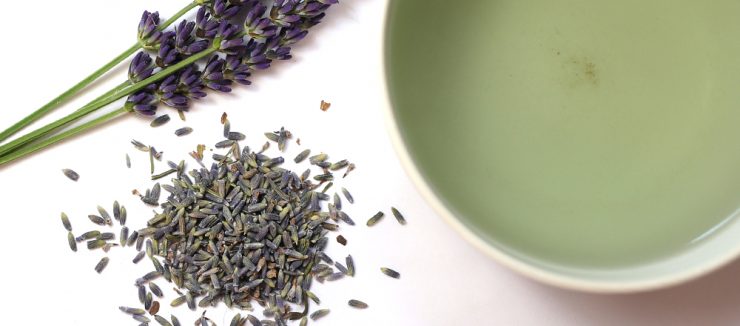 Lavender Tea and Stress
We sometimes need a break from the turbulent times we live in. However, it isn't always that easy. Stress has become increasingly common in our fast-paced societies. Could Lavender Tea benefits be the answer? It's a possibility.
A 2011 study published in the Journal of Alternative and Complementary Medicine can explain why. It discovered that participants who inhaled lavender oil experienced significantly reduced stress levels because of Lavender. Another 2005 study published in Physiology & Behavior saw 200 people awaiting dental treatment consume Lavender. The results indicated lessened anxiety and improved mood in participants.

Improved Skin Health
The anti-inflammatory response of Lavender Tea benefits can help with several ailments. This includes headaches, fevers, mild arthritic pain and, indeed, skin health. When applied topically, it can treat acne, eczema and blemishes. This is according to a paper published in the May 2017 edition of Evidence-Based Complementary and Alternative Medicine.
Consider checking with your dermatologist or another health professional before using Lavender Tea for improved skin health. This is because, although unlikely, it may cause minor side effects. We await further research before fully endorsing this Tea, or any Tea, for this purpose.
Our Blends
The Kent and Sussex Tea and Coffee Company stock several Lavender Teas and blends. Why not start with our traditional Lavender Tea? Alternatively, try one that contains other ingredients, too! For example, we have Versailles Lavender Earl Grey. This is a Flavoured Black Tea of outstanding taste and character. It includes high-grown Ceylon Orange Pekoe, bergamot oil and Lavender.
Another excellent choice is our Lavender and Camomile blend. As its name suggests, this aromatic infusion contains not one but two sleep-inducing ingredients. Indeed, a 2011 study published in the European Neuropsychopharmacology discovered that Camomile contains phytochemicals that positively influence the nervous system.
If you're still looking for more, why not try our Camomile, Lavender and Rose Herbal Blend? If you often experience intense menstrual discomfort, then this is the Tea for you. Rose Petals work as an excellent hormone balancer, and can even alleviate cramping, mood swings and anxiety. It also contains high levels of Vitamin C, which can support the immune system in a variety of ways.
You May Like to Read: