A British Summer is not complete without Tennis, Strawberries with Cream and a nice cup of Tea. Wimbledon is in full swing, serving up 28 tonnes of Strawberries and over 330,000 cups of Tea and Coffee When the temperature gauges rise to the late 20's and over 30 degrees one of the most refreshing drinks is a Fruity Tisane, so why not try our Strawberry and Cream Tisane Tea.
Our Real Fruit Teas blends are comprised of pieces of dried fruit, fruit peel, flowers/blossoms, dried vegetables, spices, herbs and natural flavours. We have over 50 different Fruit Tisane Teas with exciting names such as "Bella Granata Pomegranate" and "Blueberry Fizz". But at this time of year our Strawberry creations are the most popular with our "Strawberries and Cream Tisane" being the number one.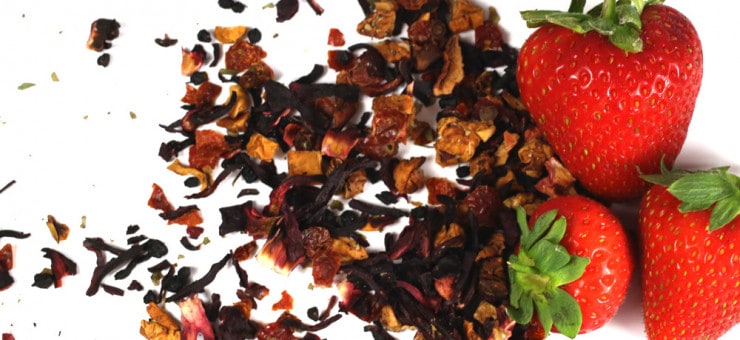 Strawberry and Cream Tisane Tea
This indulgent treat uses juicy ripe Strawberry Pieces, Apple, Rosehips, Currants, Hibiscus Flowers and Natural Flavours. Enjoy the great British tradition of Strawberry and Cream Tisane with this low calorie and low sugar alternative! A Caffeine free infusion that brews just as well as a hot cup of tea or chilled down to make a cooling Iced Tea !
Like all Tisanes, this tea is best brewed with boiling water for 7-10 minutes to allow all the deep, rich Berry flavour to unfurl. However, you can also make Iced Tea with it by brewing two tablespoons of tea person with freshly boiled water, just to cover the tea over. Brew for 10 minutes, strain, then add cold water and ice cubes. Using fresh strawberry pieces and a sprig of mint to serve.
This tea is best served hot or cold with a good slice of Victoria sponge!
Promotion: Friday 7th July until Midnight Sunday 9th July
We are offering customers a Free Gift of our Strawberries and Cream Tisane, a 10% discount this weekend with code TENNIS . Not forgetting your Pluckley Loyalty Points – 5% on all transactions! To see how many points you have in the Pluckley Bank just log into your online Tea and Coffee account. You can redeem your Loyalty Points at any time against future orders.