Rooibos is not just a tea it's an experience; one from the mountains of South Africa where leopards prowl and eagles soar high above the landscape. Every sip of this invigorating brew transports you to its home in the Cederberg Region, where Rooibos grows in great abundance and boasts a proud if sometimes turbulent history, so lets explore Rooibos Tea Benefits.
Today, Rooibos Tea pronounced "roy-boss" Tea is one of the most popular herbal teas in the world and continues to grow in popularity. For example, in 1998, 1,230 tons of Rooibos was produced for the market. In 2007, exports had risen to 14,000 tons.!
A recent report from the "Swiss Business Hub Southern Africa" stated that:
"Rooibos appears to be headed towards becoming the second most commonly consumed beverage ingredient in the world after ordinary tea (Camellia sinensis)".
Rooibos is caffeine free and low in tannins, making it an excellent alternative to Green, Black, White, or Oolong Tea if you're looking to cut down on your intake. It has numerous health benefits when consumed on a frequent basis and is most noted for its ability to lessen symptoms of allergies and provide weight loss properties. Yet the Rooibos Tea benefits can offer so much more when consumed as part of a healthy and active lifestyle.
Is it time to start your journey? Explore the history and benefits of Rooibos Tea.
What is Rooibos Tea?
The Rooibos herb grows only in the Cederberg region of South Africa, a mountain range and nature reserve located approximately 180 miles (300 kilometres) from Cape Town. It comes from the perennial Aspalathus linearis plant, a member of the Fabaceae (sometimes called the Legume) family. It can reach heights of up to 3 feet (0.9 metres) and has very thin, needle-like leaves.
Cederberg is one of the most bio-diverse areas in the country, boasting 500-million-year-old sandstone formations and 6,000-year-old rock art left by the San people, the indigenous population that once inhabited the region.
Locals have been growing, harvesting, and brewing Rooibos Tea for literally hundreds of years. The industry employs an estimated 4,500 people although the Aspalathus linearis plant grows best when left alone in the wild. The herb itself is now exported to 37 countries around the world including Germany, the Netherlands, Japan, the United States, and, of course, the United Kingdom.
"70% goes to Europe and North America. Germany, in particular, accounts for an estimated 53% of worldwide rooibos importation!"
Rooibos is subjected to some of the harshest conditions of the African continent and is, without a doubt, a particularly hardy plant. Wintertime temperatures in the Cederberg region can dip well below zero while in the summer, it is not uncommon to have temperatures above 40°C.
The Aspalathus linearis plant is harvested during the hottest time of the year. Sickles are used to cut down the long, green branches, the cuttings of which are placed into hessian bags and are transported on foot to the factory.
From there, the rooibos leaves are typically oxidised, similar to "regular" tea. The oxidation process changes the colour of the leaves from green to red, however if the leaves are not fermented, then they are still editable as "Green Rooibos Tea", again, similar to "regular" Green Tea.
Rooibos Tea can be enjoyed as a standalone beverage or with the addition of other complementary flavours. Fully fermented Rooibos Tea has notes of nuts, honey, and caramel with strong herbaceous overtones. Green Rooibos Tea (or "minimally fermented" Rooibos), on the other hand, is recognised for its mellowness with slightly sweet undertones. Whether you choose Red or Green Rooibos Tea, you're certainly in for a treat!

The Different Names of Rooibos Tea
Most know this beverage as, quite simply, "Rooibos Tea". But there are others names, many in fact. The term "Rooibos" comes from the Afrikaans language and can be translated to mean "Red Bush". The name "Red Bush Tea" is commonly used in the UK instead of Rooibos.
Then there is "Bush Tea", yet another name! Finally, and less commonly, Red Rooibos can also be referred to as "Red Tea", although this is strictly for fully fermented Rooibos as opposed to Green Rooibos Tea, which - surprise, surprise - is green!
Difference Between Rooibos and Honeybush
Another name used, incorrectly, to describe Rooibos is "Honeybush Tea". Rooibos and Honeybush Teas are, in fact, completely separate from each other. While Rooibos is cultivated in the Western Cape province of South Africa, Honeybush (botanically known as Cyclopia) is produced predominantly in the Eastern Cape.
The two plants are related, belonging to the same Legume family, but have notable differences, particularly in terms of taste. Like Rooibos, Honeybush is caffeine free and low in tannins.
Because of these low tannin levels, both teas can sustain longer brewing times (5 to 10 minutes) but Honeybush, in particular, carries distinct notes of wood and, understandably so, honey. Furthermore, some have likened the taste of Honeybush Tea to a hot apricot, a trait seldom found in most Rooibos Teas unless added as a separate entity.
Try Rooibos and Honeybush Teas side by side and see for yourself!

History of Rooibos Tea
Rooibos Tea rose to fame in the early 20th Century; however, its history dates back many hundreds of years before. The Aspalathus linearis plant was first discovered by the Khoisan tribes of the Cederberg Region, the indigenous population who had inherited the landscape long before the arrival of European colonists.
The Khoisan people enjoyed Rooibos for its taste and of course Rooibos Tea Benefits. It became a staple of their societies and was highly revered for many centuries; that is until 1660 when the first pioneer explorers from Europe ventured into the Cederberg and Olifants River Valley. From then on, life would change for the Khoisan people, forever.
For the next 100 years and beyond, Dutch and British colonists settled in the area and began to encroach on Khoisan land. As colonisation spread, the Khoisan tribes depleted in numbers, their way of life nearly eradicated. Rooibos Tea was almost completely forgotten.
Then, in 1772, a Swedish botanist named Carl Thunberg (1743-1828) rediscovered the leaves high in the mountains; a brew once adored was revived and given a new lease of life. Its popularity spread gradually throughout the country but, for the most, Rooibos Tea was of little interest to anyone outside of the African continent.
But change was on the wind in 1904 when Benjamin Ginsberg, a Russian immigrant and pioneer with ties to the Tea Industry, began marketing Rooibos as a "Mountain Tea". He started trading with local farmers and eventually explored the prospect of exportation. Ginsberg's rebranding kickstarted a new widespread interest in the drink. Rooibos was here to stay.
By 1930, Dr P. Le Fras Nortier, the local doctor and an amateur botanist, had discovered the secret of germinating Rooibos seeds. Together with Olof Bergh, a commercial farmer, he developed new and groundbreaking cultivation methods and soon the production of Rooibos began on a much larger scale along the slopes of the Cederberg mountain range and this was aided buy the well know Rooibos tea Benefits.
The Second World War (1939 to 1945) was a horrific period in history but brought about new opportunities for the still-fledgeling Rooibos Tea industry. When Imperialist Japanese forces occupied China, exporting Green and Black Tea became increasingly difficult. British India was able to bolster the industry to some degree but an alternative was still needed to quench the thirst of avid tea drinkers in the west.
Rooibos herbal tea was the answer and began to fill the void left by Chinese Tea. However, owing to the scarcity of the plant, demand quickly outweighed availability. Prices of Rooibos Tea rose to all-time highs and farmers struggled to keep up with its new-found popularity.
After the war, the Rooibos Tea industry returned to a relative state of normality. With China back in the game and working at full speed, the plant was again able to thrive. Interest in this herbal tisane had waned somewhat, or at least until the escapades of one particularly fascinating woman.
Annique Theron and Rooibos
The Rooibos market of today wouldn't be the same without one truly incredible person, Annique Theron (1929-2016). To us, Dr Theron is a pioneer of the herbal tea industry, helping to cultivate a path to success. Her outstanding work and contribution have inspired many, including all of us.
Annique was born on April 18th, 1929, growing up on a small family farm near Potgietersrus, South Africa. From an early age, she had wanted to become a doctor but her parents couldn't afford the fees and as a result, became a typist. Moving to Pretoria, Annique met her future husband, Meiring, marrying him in 1948.
Their first child, Henk Theron, was born in the early 1950's while their second son, Marius, came a year later. Their first daughter, Suzette, was born some 10 years after having a third son and finally, Lorinda, their second daughter, was born in early 1967.
The year following, on April 8th, 1968, the 14-month-old Lorinda was found to be suffering from severe allergies and colic. After many sleepless nights, Theron decided to warm her milk with Rooibos Tea in an attempt to ease the child's insomnia. Not only did Lorinda sleep for 3 straight hours as a result, but also became less susceptible to her allergies.
In 1968, just one year after, the South African mother published a book titled "Allergies: An Amazing Discovery". And what a discovery it was. Since the book's publication and following numerous scientific studies to confirm her findings, sales in Rooibos Tea have risen by over 50%.
Annique continued to build on her legacy and at the age of 72, was finally able to obtain her doctorate in alternative medicine from the Commonwealth Open University. She passed away at the age of 86, confirmed by her son, Henk, who said:
"Her legacy will remain. She is one woman who added value to many people's lives, and we are grateful that we could have been a part of that".
In a 2009 interview, Dr Annique Theron was quoted as saying:
"It was a long but delightful journey. And I'm so happy that I could've been the instrument to have achieved that".
For us, every Rooibos Tea sold through The Kent and Sussex Tea and Coffee Company is in honour of her.
Rooibos Tea Benefits
There are known to be as many beneficial constituents in Rooibos Tea as there are countries importing it (that's 37 in case you've forgotten!). These components can combat free radicals in the body, the product of natural human oxidation. Thanks to the work of the late, great Annique Theron, we now know more than ever.
Rooibos Tea is rich in vitamins and minerals including iron, calcium, potassium, copper, manganese, zinc, magnesium, and alpha hydroxy acid. It also contains antispasmodic properties and can improve skin and even cardiovascular health.
Perhaps most important of all, this beverage is known to contain an especially rare antioxidant called Aspalathin, which can balance blood sugar, improve insulin resistance, improve glucose absorption by muscles, and boost the insulin secretion from the pancreas. Ultimately, Rooibos Tea Benefits are great for anyone who is pre-diabetic or even for people who already have Type II Diabetes.
Rooibos Tea and Allergies
So, why did Annique's daughter, Lorinda, feel better after drinking Rooibos Tea? Researchers believe the antihistamine properties in Rooibos Tea are derived from a bioflavonoid called quercetin, which blocks the release of histamine from mast cells to curb common symptoms of seasonal allergies.
Hay fever, in particular, can lead to congestion, a runny nose, and sneezing. Consuming Rooibos Tea, meanwhile, can counteract these symptoms. According to one study, Rooibos Tea has the potential to be as beneficial as certain antihistamine medicines.
Rooibos Tea and Colic in Babies
According to some experts, about 20-25% of all babies meet the definition of "colic", a condition often used to describe any infant that cries for an extended period of time, suffers from restlessness and sleeplessness and, in some cases, has gastrointestinal issues (more a side effect than the condition itself).
A colicky baby is not an unhealthy baby but nevertheless, can be a very distressing experience for both parent and child. Consider giving your baby Rooibos Tea, either as a warm brew, an iced tea, or even an iced lolly, to lessen the symptoms of infantile colic.
It is safe to give Rooibos Tea to infants, but most parents do so when the child is between 4 and 6 months old. Lorinda Theron was the first known child to see the incredible Rooibos tea benefits for this reason. She wouldn't be the last.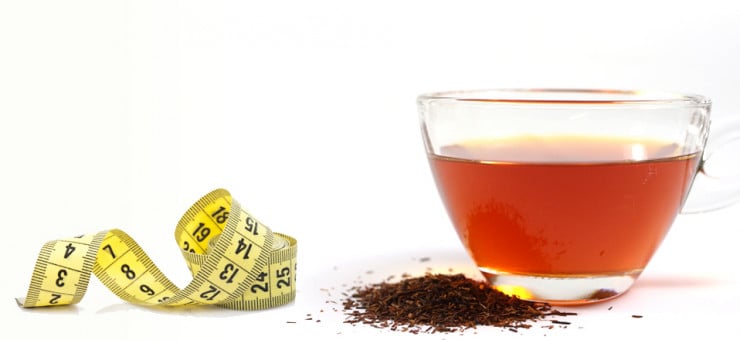 Drinking Rooibos Tea for Weight Loss
Does Rooibos Tea help you lose weight? You bet it does! Ernest du Toit, a spokesperson for the South Africa Rooibos Council, said:
"Rooibos Tea contains no fat or carbohydrates and its weight-loss properties further extend to inhibiting fat-stage hormones within the body. Rooibos's [SIC] unique bioflavonoid, Aspalathin, helps to reduce stress hormones that trigger hunger and fat storage, typically associated with high blood pressure, heart disease, metabolic syndrome, insulin resistance, and Type II Diabetes. In a nutshell, Rooibos Tea can prevent the body from storing and even forming new fat cells".
Furthermore, Rooibos Tea has metabolism-boosting properties, enabling the body to burn fat quicker and more efficiently. Looking to lose some extra pounds? Look no further.
Does Rooibos Tea Lower Blood Pressure
It's suggested that 30% of the world's population suffers from high blood pressure. Could Rooibos Tea be the answer? Almost certainly. This beverage has long been used to lower blood pressure.
There are many beneficial compounds in Rooibos Tea, but which particular ones effect blood pressure are, as of present, unknown. Further studies are needed to identify these compounds, which are almost certainly antioxidants found in Rooibos Tea.
In the May 2010 issue of the journal, "Public Health Nutrition", one study suggested that Rooibos Tea could have an overall positive effect on cardiovascular health. This remains to be seen, although it is a likelihood.
Is Rooibos Tea Safe During Pregnancy
Rooibos Tea is an incredibly nutritious beverage, hosting a wealth of vitamins, minerals, and other antioxidants perfect for pregnant women. While many other teas limit iron absorption by chelation of the iron molecules, Rooibos Tea actually improves iron absorption.
Rooibos is also caffeine free and can be enjoyed just before bed, a choice many soon-to-be mums make. Furthermore, it's important to note that your baby's health very much depends on your diet. But when you're dealing with an upset stomach, it can often be hard to eat. Morning sickness and nausea are well-established side effects while pregnant, particularly during the first trimester.
Plus, the change in estrogen levels can have a negative impact on your digestive health. Rooibos Tea, meanwhile, is a natural digestive aid. It can alleviate stomach issues, making it a lot easier to eat.

Rooibos and Improved Skin Health
Packed with an antioxidant punch with every sip. It contains zinc and alpha hydroxy acid, which are excellent for maintaining skin health among other Rooibos Tea benefits. Applying brewed Rooibos Tea directly to the skin can relieve pimples, blackheads, and even sunburns.
Studies have also shown that Rooibos Tea can treat various skin disorders, including eczema and acne. The anti-inflammatory properties of this beverage are likewise beneficial to skin health. Rooibos Tea essentially comes in at all angles and ensures that your skin is as healthy as it can be.
Where to Buy Rooibos Tea
Rooibos is a tea of many choices. Flavoured or unflavoured; tea bags or loose leaf - that choice is ultimately yours.
We have an expansive range of Rooibos Teas for you to try.
Rooibos 50 Tea Bags: Don't have time to fiddle with loose leaf teas? Rooibos Tea Bags is as convenient as they get while offering the same, delicious rooibos flavours.
Loose Rooibos Tea: Keep things simple, refreshing, and unputdownable. With our very own House Rooibos Tea, you'll want to keep brewing over and over again.
Rooibos Organic Tea: This wholesome tea looks and tastes just like any other Rooibos but is also produced using only controlled bio-cultivation methods. In other words, Rooibos Organic Tea is guaranteed to be free of synthetic fertilisers, herbicides, and pesticides.
Rooibos Vanilla Tea: Soft, creamy, and indulgent, Rooibos Vanilla Tea is perfect for those trying to avoid dessert without neglecting the sweet tooth. This brew has something for everyone.
Rooibos Caramel Tea: A beverage that looks as good as it tastes, Rooibos Caramel Tea is a true delight to the senses. It consists of sweet notes of almond and, of course, caramel with subtle woody and nutty undertones but still with the incredible Rooibos Tea Benefits.
Rooibos Green Tea: Lighter-bodied and milder than its oxidised counterpart, Rooibos Green Tea delivers a unique, natural sweetness. It is processed using "regular" Green Tea methods and also has higher levels of antioxidants than Red Rooibos!
There has never been a better time to enjoy Rooibos Tea. The Kent and Sussex Tea and Coffee Company, in particular, have had over 30 year's experience with Rooibos and deal only with quality. Buy the best to