Rooibos Tea
It is arguably one of the most distinctive tasting teas available on the market,  yet it isn't even technically a 'tea'! In fact, Rooibos tea is grown from a completely different plant all together, with it originating from the Aspalathus Linearis plant as opposed to the Camellia Sinensis plant. The term "Rooibos" is Afrikaans for "Red Bush," but is commonly referred to as "bush tea" or "red tea". So how did this unique brew manage to sneak its way into the hearts of tea connoisseurs across the world? From the mountains of South Africa to your morning cup, Rooibos loose leaf tea has a truly fascinating story that dates back over hundreds of years.
History of Rooibos Tea
In terms of tea history, Rooibos loose tea is considered somewhat of a fledgling within the industry. With its popularity growing steadily each year, its legacy has since been set in stone – but its story may have faded long ago if it had not been for the intervention of one man. The reason for this lies within the Khoisans, the indigenous bushmen of the Cederberg region from where Rooibos originates.
For centuries, the many tribes of the Khoisans used the Aspalathus Linearis plant for herbal tea remedies, as well as enjoying its overall taste. As colonisation swept across the continent, many of these tribes began to dwindle in the 18th Century. Their culture significance began to wane while their long-standing traditions passed down through generations looked as if they might become lost within the passage of time. Thankfully, a botanist named Carl Humberg rediscovered the leaves in 1772 and revived a more widespread interest in the tea like drink.
Mr. Humberg's initiative may have essentially saved this beverage from extinction or at least maintained its legacy,  while in 1904, a Russian immigrant with ties to tea manufacturing, Benjamin Ginsberg, began marketing the drink as a herbal alternative to tea and Rooibos Loose Tea began to boom once more – this time spanning the furthest reaches of the world.
Health Benefits of Drinking Rooibos Tea
In recent years, Rooibos history has shown that this brew continues to intrigue adventurous tea drinkers with its demand increasing by over 50%. This may be largely due to ongoing scientific studies uncovering the true potential of its consumption with a wealth of health benefits now associated with drinking Rooibos leaves. These include helping with ailments such as nagging headaches, insomnia, asthma, eczema, bone weakness, hypertension, allergies, and premature aging. Further to this, Rooibos tea is free of caffeine and low in tannins! It is then no surprise that the Rooibos loose leaf tea market is currently flourishing as more and more is discovered in breakthroughs occurring every year. With this in mind, it's fair to say that this is truly the gift that keeps on giving! So, let's explore some of these possibilities and other known health benefits:
Cardiovascular Health:
Like many of its Camellia Sinensis cousins, Rooibos tea is full of powerful antioxidants which greatly benefit the body. One such antioxidant is Quercetin, which has been linked to preventing a wide variety of heart conditions. It is likewise anti-inflammatory, which reduces blood pressure. Furthermore, Quercetin works in a similar fashion to other antioxidants as it fights against free radicals within the body.
Prevents the Onset of Type Two Diabetes:
One of the rarer antioxidants found within Rooibos tea is Aspalathin. When consumed, Aspalathin can become an ideal defensive shield against developing type II Diabetes through its work in balancing blood sugar, improving insulin resistance and the glucose absorption by muscles, as well as boosting the insulin secretion from the pancreas.
Antispasmodic Properties:
Rooibos tea's ability to ease severe stomach cramps and abdominal pains is well documented. This is done through its consumption activating K+ (potassium ions) in the body without antagonizing the activities of Calcium. Together, this can help reduce the presence of hyperactivity in the gastrointestinal tract, preventing other ailments such as diarrhoea.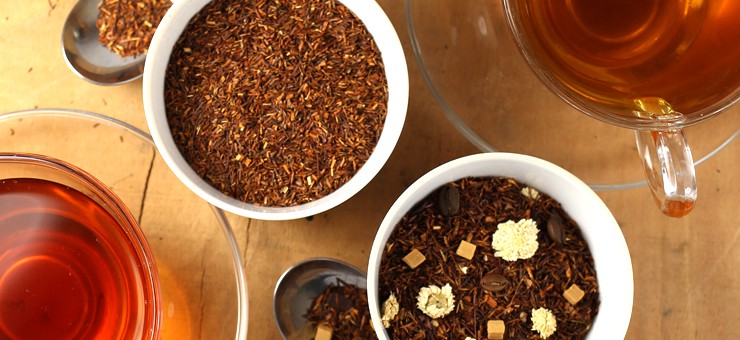 Why Not Try our Rooibos Teas
Has this delectable and robust brew peaked your interest? Perhaps the time has come to explore the Kent and Sussex Tea and Coffee Company's great selection of Rooibos teas. Partial to a slice of Chocolate cake? Honeybush Chocolate Cake Tea is a very unusual creation that brings together the flavour of Honeybush Tea with Chocolate and rosebuds added to round things off. A lovely chocolatey aroma with wonderfully sweet notes, this blend is particularly good for those trying to avoid the real deal!
Prefer something a little fruitier? Then our Orange and Eucalyptus Rooibos tea is the one for you. The combination of Australian eucalyptus leaves and zesty orange creates a very unique and tasty brew. This eye-catching tea has a powerful menthol aroma with further fruity notes of peach dancing on your palette as you sit back and relax on a warm summer's evening. Whichever way you decide to go, be adventurous with the Kent and Sussex Tea and Coffee Company.
Related Articles
It's all About Rooibos Tea, Rooibos Pineapple and Lemon Sorbet, Boosts your Immune System with Tea