We have had over 9086 reviews on FEEFO! We use FEEFO, an independent review company to ensure that we are constantly improving our services.
We offer a monthly review competition a review you are entered into our monthly draw to win one of Three Prizes of vouchers worth £10, £20 and £30 for the best! The most interesting reviews are published in our newsletters and on our blogs!
Chocolate and Coconut Black Tea - Danielle Abrams
Service rating : I live in the US and the shipping is always fast! Orders are always accurate.
[caption id="attachment_1112" align="alignleft" width="370"]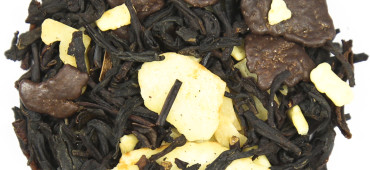 Chocolate and Coconut Black Tea[/caption]
Product : The chocolate coconut tea combines all of my favourite flavours. Its like sipping a tropical vacation covered in chocolate. Who wouldn't love that? I have tried many other chocolate coconut teas and this, by far, is the best. The flavour is almost like a really good hot cocoa or a German chocolate cake. I just use a splash of milk and even without sugar it satisfies my sweet tooth. I'm so glad I found your website and I'm so glad you ship to the US. Thank you!
[caption id="attachment_1111" align="alignright" width="370"]
Liquorice Root Coarse Cut Tea[/caption]
Liquorice Root Coarse Cut Tea - Susan Lee
Service rating : It's great to find a company that has a good selection of loose herbal teas.
Product : The liquorice tea mixes well with the lavender tea that I previously purchased from you.
Orange and Eucalyptus Rooibos Tea - Julie Kelly
Service rating : Have had many dealings with the company and have nothing but praise for the service received from them.
Product : We wanted another alternative to the lemongrass and ginger, especially this time of year with dodgy throats and colds.
We love reviews, it helps us constantly improve our services and gives us some great ideas!
Here are some reviews which we enjoyed reading but sadly could only pick three winners! The
The Runners-up;
Russian Caravan Tea Bags - Nicky Selwyn
Service rating : Excellent service - received quickly & well packed. Thank you.
Product : Russian Caravan is the tea I've been looking for all my life - light, delicate, refreshing. I don't understand reviewers who complain it's not strong enough...surely Russian Caravan isn't the one to choose if you want a robust tea? If, like me, you prefer your tea without a tannin overload, I would highly recommend Russian Caravan - K&S is just as good as the Piccadilly version...but much, much cheaper. I'm just off to order more!
Pluckley Tea 1.5kg Loose Tea - Michael House
Service rating : Sometimes you find out more about a company when things go slightly wrong than when they go completely right. When a company sorts out a problem quickly, politely and to the customers satisfaction then for me it increases my confidence in them. Such was the case in sorting out a Postal problem over Christmas - thank you and well done!
Product : Excellent; people visiting my home often spontaneously comment how good their cup of tea is.
Japanese Sencha Genmai Cha - Grace Boyd
Service rating : I have always loved The Kent and Sussex Tea and Coffee Company. Everything is delivered quickly and I have to say I am always impressed by how much 50g gets you.
Product : This is the second time I have ordered this tea and I love it. It's nutty and fresh, quite hard describe really. I will always come back to this tea, it's a real comfort.